Main Pages:
How to Edit Home Page
Text Version
Login to the administrator area
Click 'edit home page'
Walk through various sections:

Featured Images (this is large image at top/left of home page)

Product - this is associated product and will automatically fill in the image/link/etc if you want to be quick.
Custom Image - this is a great way to customize the size by cropping in advance3
Custom Link - this is a way to link to a special area (not a product) like a search and/or profile.

Featured Right

Same as above with addition of a 'TITLE' that overlays over the images

Featured Bottom

Same as above with addition of a 'TITLE' that goes underneith the images
Video Version
Text Version
You only need a title, an image, and a category to upload on this page. However we recommend you add a few other fields on this page in order to maximize your profits.
What to have ready (best options for profitable sales):
Media File: Please prepare a .jpg image that is > 3000px width and > 2000 px width. If you can do > 5000px width and >3100px height, you will have the highest chance for profitable sales. The site will automatically resize (downsize only) the image into 4 default sizes.
Media Thumb: Prepare a 400px by 400px thumb of your image. This is optional, but highly recommended. This will be used on the search page, and many other areas on the website as a preview image. If you do not prepare this image, the site will automatically crop your large image, which in certain cases have undesired effects.
A Title: You will need a short title for the image. You can optionally have a longer version of the title, which only shows on the main image page.
A Description: this should be at least 1 sentance, and at maximum 1 paragraph.
Image Rights: we highly recommend you stick with Royalty Free. If not, you will need to select the appropriate RM box, and then write or copy/paste your description into the provided "Media Rights Description" box.
Categories: You must select at least 1 category, and at maximum 3. You can hold your CTRL-APPLE key down to select multiple categories.
After clicking 'submit for approval,' an administrator will be notified, and you can upload more images right away!
Video Version
Settings:
Cartthrob Settings

All of the 'carttrhob' settings areas are for settings only… not actual live product stuff.
Orders: Orders you won't need to touch.
Shipping: again - won't' need shipping since these are digital products.
Taxes: Right now there isn't sales tax being added to anything. This is something you'll need to figure out - as different states act differently. In many states (all states previous to last year) there is no sales tax on digital items, or items sold from another state. It's probably safe to say you won't need taxes for purchases, but you will need to confirm that with your CPA.
Discounts: this is not handled here. Note: to edit the 'packages' you would go to "Content / Edit / Store - Package Pricing" and edit from there.
Emails: Here you can edit some of the basic 'email responses' that are sent after an order is fulfilled.
Members: Please don't edit this.
Payments: Again, please don't edit this unless you know what you're doing.
Reports: This is where you can see some of the basic reports for sales, include charts.
Cart & Media Items:
Orders:
Entire Orders can be viewed under "content / edit / Store - orders"
Purchased Items (which are each individual item purchased, by whom, and for which photographer) can be viewed under "content / edit / Store - Purchased Items"
Packages:
Packages can be added or edited vie:
"Content / Publish / Store - Packaged Prices" (for a new package)
or
"Content / Edit / Store - Packaged Prices" (for editing existing ones)
Package pricing works like this: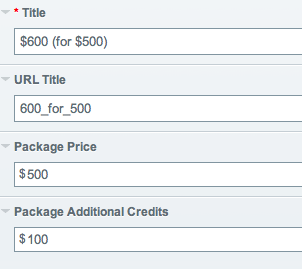 Title: what is shown on the frontend. This should be self evident... (600 for 500, or 500 + 100.... or whatever you decide).
url: not relevant
Package Price: how much someone will 'pay' for the package.
Package Additional Credits: how many additional 'credits' that person will get after paying the package price.
Rights Managed Requests:
The way these works is that if an image is uploaded as "Rights Managed"….. the websitie doesn't show a price for the image, but instead shows a "CONTACT FOR PRICING" form. After someone contacts you -you can edit that 'RM request' to include an 'approved price' which will then allow that user (and that user only) to purchase the image at the price you set.
This has only been tested mildly since it was later discontinued. Please do additional testing if you use this.
Credits:
Credits are only applicable if someone purchased "packages' and/or you add credits to their account. Otherwise when they purchase credits, they'll be instantly spending them at the same moment during their order.
Admins can add credits from their administrator menu.
Users can view credits at any time from the 'credits balance' link at the footer, or from there /members/ left hand menu.
Members:
Inviting Photographers:
Administrators can invite photographers by sending them a custom message that includes an 'invitation link' which allows them to bypass being approved once they've joined.
To use this invite message, administrators will see a link from their administrator menu or in their members left hand bar menu called "invite photogs.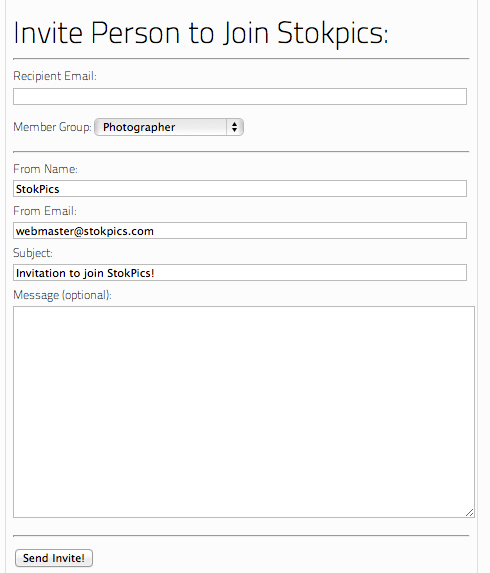 receipient email: the photographers email
member group: the group you want them to be added to once they sign up
from name: the name their email will show the message from
from email: the actual email that will be sent. This will also be the 'reply' email in case they simply reply to the message.
message: this is an optional message you can add. If it is not used, a 'default' message will be inserted in the outgoing message.
Contact Page Message:
contact page messages will be sent automatically to the site administrator, along with being copied in the administrator under 'view contact form.'
Photographer Payments:
For Administrators:
in the 'my account' area administrators can find a 'photographer payments' link at the bottom left.
From there you can:
view payment history in the center of that page.
click the 'record payment' on the bottom right hand side. This is a blank form to enter a photographers payments.
click under any 'photographer' name on the right who has a 'pay this photographer' link available. This gives you a form with 'recommended values' to make paying them faster.
For Photographers:
"My Payment History Page" - found in the 'members' section on left hand menu.
New settings on account page to add 'preferred payment methods': - found in the 'members' section on left hand menu under "Update My Acount"
Miscellanious
The "clear cache" link for administrators is something you'll rarely need. However, if you ever edit a page (like the 'about us' page) and don't see your changes being saved even though you are sure you saved them, you can click this link to 'clear the cache'. Then, after revisiting the 'about us' page you should see your changes. This is due to the "10 minute cache" setting for each of the pages on the site that rarely change so that the website will run faster during normal use.
Back