Website: http://www.harpjas.com
Client: Julie Ann Smith; San Diego, California.
Harpjas.com is the promotional website for Julie Smith, the principal harpist for the San Diego Symphony. To date it probably turned out to be one of our better projects. Here is a little ditty about how we built it.
Just prior to beginning Harpjas.com, 180 began implementing the Kaizen method to revamp our entire web building process - in the hopes of making better websites, more efficiently.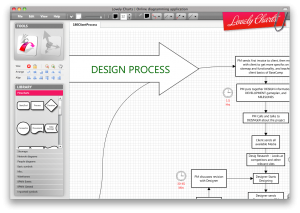 We had decided to start each project with lots more research and brainstorming in the beginning, dreaming as big as possible - stretching ideas to their max - all before even creating a sitemap. All discussions began and ended with Julie's end goal and secondary goal in mind. Those goals were, to us, primary - and we really tried to subdue any idea that could hinder success. Of course, our ultimate intention was to make her a rock star!
Those beginning conversations included everyone on our team. This sounds so elementary, but many web teams forgo having developers and designers talk before starting! Those meetings led to a sitemap and entire site building game plan (a bit flexible of course) that Julie approved before beginning. Julie was very trusting through this process!
During design, we decided not to use Julie's previous logo, which was actually fairly nice. Instead, we felt that the best branding for Julie would be Julie - her picture, music, and name all packaged together as "someone who will make your event amazing."

Our hope is that people remember her name and persona more than anything.
Fortunately we had amazing imagery (by Darin Fong) shot specifically for the website. We used the images like a foundation for the rest of the content. We thought: "Why have an interior page full of self portraits?" People really want to see Julie's beautiful composure from the very start.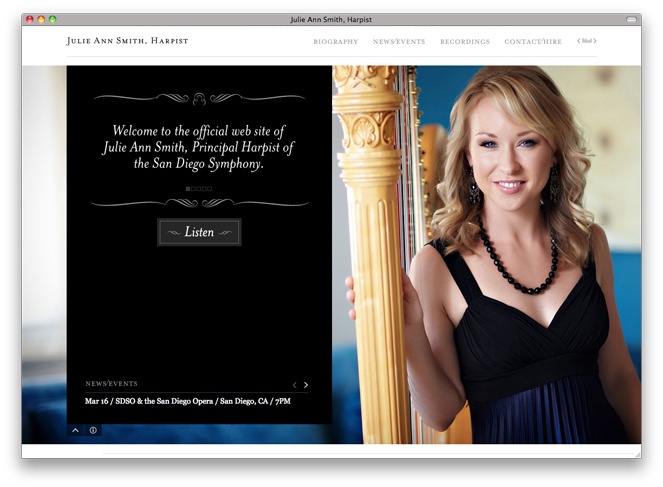 Very few people enjoy websites playing music automatically. Yet Julie is a very good musician, and we wanted people to play her music. Thus, what we ended up incorporating was a large "LISTEN" button on the very first page. And this combined with the smooth page transitions means that people can listen to carefully selected audio snippets throughout their entire site experience.
One thing we wanted to do is use Julie's impressive event engagements to promote her - and traditional table calendars wouldn't do that. Big square calendars are just always going to have lots of empty boxes even with a full schedule.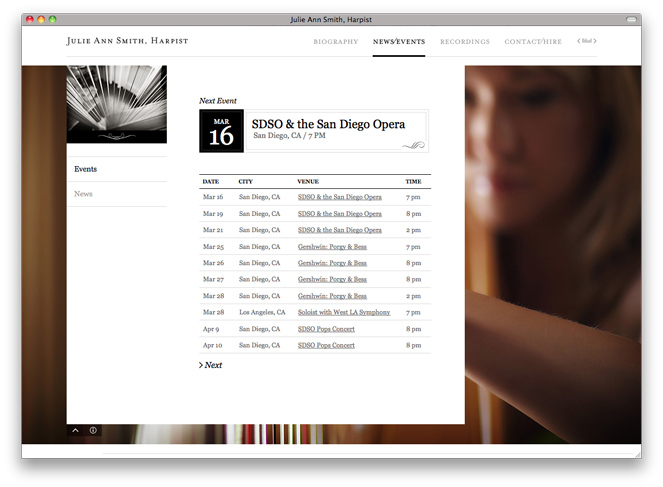 Instead of just styling the website for mobile content, we decided it would be just as easy to display similar content designed specifically for mobile browsers.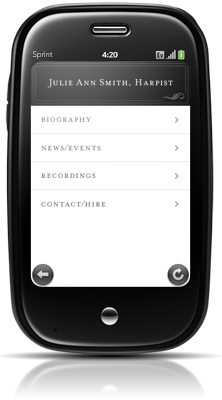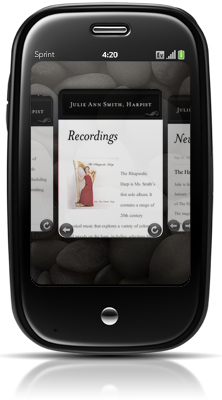 It was a fun and already successful project. 180byDesign recently won an award for it.
The final step was kick starting her social networking.
So please checkout her website: http://www.harpjas.com, maybe follow her on twitter or fan Julie on facebook. But be sure to come back and tell us what you think.